How this guide and checklist came into being
I asked my acquaintance Sergii, who was heading to Kiev, Ukraine, if he could bring me back a Jupiter 36B and a Helios 44 classic lens. For this I needed to create a checklist to help guide him, and then I thought it would be a good idea to share it with everybody. If you have a different view or extra hints and tips, please leave a comment at the end of the article. Since writing my guide, however, Covid-19 hit the streets, so while my classic lens acquisitions will have to wait, sharing my list will not.
General classic lens buying tips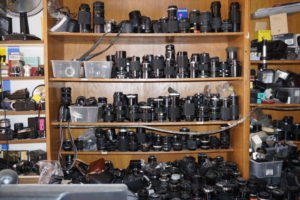 A wise decision is to pay a little more on ebay without an auction, with a fixed price and with the right to return the lens within 2 weeks or more if the test results that you conduct are poor. It's better not to end up like Jan Eufinger did with his Hanimex Hanimar 28mm f2.8, "probably the worst lens of the world": https://www.youtube.com
Another way to avoid buying flawed classic lenses is to test them at flea markets. Adapt them to your digital camera body and shoot some test photos before buying the lens. Besides checking the topics listed below, you could also easily test infinity focus and sharpness in the center and corner of the frame. So, never go to flea markets without you digital camera body and a collection of lens adapters!
A simple, 10-point checklist guide to get a classic lens "keeper"
Here is a 10-point checklist you should follow when examining an analog classic lens, with no electronics and manual focus only, before you buy it. Many thanks to the Classic Lens Podcast for its valuable hints and tips.
The order in which the topics are listed reflects my personal view on each item's importance. The topics listed first are, in my view, more significant than the topics listed last. All topics marked with *NO-GO are a deal-breakers in my view, a reduced price does not matter. The acceptance of all other topics depends on severity and price reduction for the classic lens.
For each of following 3 questions, your answer should be YES:
Will you be able to properly adapt the lens to your camera? *NO-GO
Without a way to adapt the classic lens to a working camera to shoot film or digital, there is no reason to buy that lens, right? An important aspect of proper adaptation is keeping the right flange distance to have a sharp focus on lens infinity distance setting. Find a nice lens adapter collection from Simon Forster here.
Does the lens aperture open and close smoothly? *NO-GO
The aperture should instantly and equally close at all aperture settings.
Does the focus ring have a smooth operation among the full focus range?
Check the complete focus range and be sure that the focus ring is running smoothly without stiff moments.
For each of following 7 questions, your answer should be NO:
Are there any scratches on the glass of the lens?
Some small scratches on the corner of the front lens are no problem. But never buy a classic lens with any scratches on the back lens. *NO-GO for the back lens
Is there any lens fungus visible on the glass within the lens?
Check with a lamp from behind the lens if there are any tree-shaped crystals visible on the inner lens glass. Do not buy any classic lenses with lens fungus, as it could grow and infect all your other lenses. Look here for a YouTube video explaining LENS FUNGUS: Comparing a Lens with Fungus to One Without
Is there any haze visible within the lens?
Check with a lamp from behind the lens if the lens is not clear but "foggy". Look here for a YouTube video explaining LENS HAZE: Identifying and understanding Why it's Bad

Is there any balsam separation visible within the lens? *NO-GO
Check with a lamp from behind if there are any "rainbow glows" visible. If so, the glue between compound lenses could be in disaggregation. Look here for a YouTube video explaining LENS BALSAM SEPARATION: What is lens balsam separation? What it looks like and does
Is there any oil on the aperture blades?
Oily apertures could lead to stiff aperture blades and the oil will very likely vaporize onto the inner glass over time. Some classic lens models tend to be oily even after cleaning during a lens inspection. Check the Internet for specific models of classic lenses with "notorious oily aperture blades" (e.g. the 7-lens MC W.Rokkor-HG 35mm f2.8) because of constructive reasons and try to avoid them. Look here for a YouTube video explaining OILY APERTURE BLADES: Oil on your aperture blades, why it ruins shots
Is the lens filter thread damaged?
If the lens filter thread on the front of the lens is damaged, the use of ND and protective filters could be impossible.
Does the lens have a lot of dust inside?
Only severe dust is a problem, some sporadic dust will not affect your image quality. Dust could be easily removed during a lens inspection by an analog lens repair expert like Gérard Wiener.
If you have any questions regarding this classic lens buying checklist, put it into a comment at the end of this article and I will try to answer within a reasonable amount of time.
Internet sources explaining several classic lens flaws
Have a look at Philipp Reeve's topics to check manual classic lenses. He mentions another potential lens flaw, "lens de-centering". This can happen because the lens was dropped or because of production variations. Lens de-centering can sometimes be corrected by re-calibrating a lens. This repair operation is beyond the ability of almost any hobbyist, so it's better not to buy such classic lenses:
https://phillipreeve.net/blog/
YouTube video: Comparing a Lens with Fungus to One Without
YouTube video: Identifying Lens Haze and Understanding Why it's Bad
YouTube video: What is lens BALSAM SEPARATION?
YouTube video: Oil on your aperture blades, why it ruins shots