A common question among classic lens photographers: what gear should I take for photography while travelling? Let's travel to 4 stunning locations in Portugal with a planned set of cameras and some classic and modern lenses.
This article should be of interest to you if you plan to travel, want the best options for taking pictures, have a modern Sony, Canon or Nikon mirrorless camera and have any of following questions:
Which lenses should I bring for travel photography when the photo bag should be small, light and inexpensive and, beyond the capabilities of travel zoom lenses, to shoot some good bokeh photos? (Also I dislike onion ring bokeh.)
Can classic lenses be used for travel photography?
Does an ND filter and a fast prime lens make a big difference for object separation and bokeh quality?
How can I benefit from using 2 camera bodies for travel photography, one being a full frame camera and one an APS-C camera?
I have a Smartphone with a high-quality camera, so why should I spend money on modern mirrorless cameras and inexpensive prime lenses?
Selected gear for travel shooting in Portugal 2022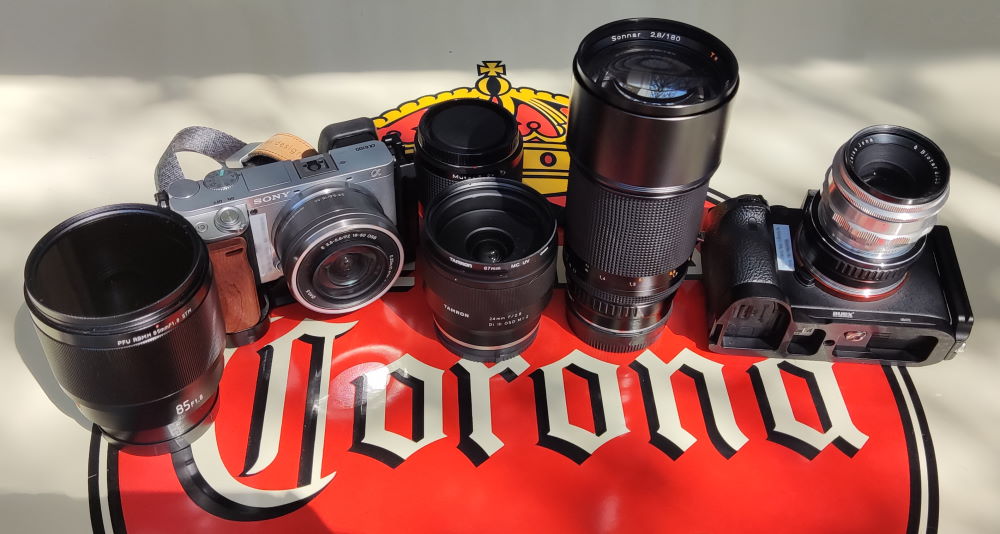 Travel shooting locations
The locations visited for this article were: Nazaré, the place with the highest waves in the world and a preferred spot for big-wave surfers; the picturesque village of Figueiró dos Vinhos, former home to two famous Portuguese artists; the breathtaking Fragas de São Simão canyon; and Porto, the second largest city in Portugal, whose historic center is a UNESCO World Heritage Site.
When you click on an image in the galleries, following buttons will allow you to select some features, including a slideshow (which is auto-started for some galleries, you have to press the pause button to stop a slideshow):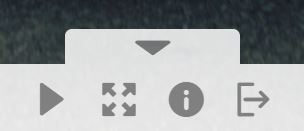 Slideshow | Fullscreen | Image-Info | Original-size
Location 1: Nazaré, whose giant waves host the World Surf League Championships
Nazaré is a very popular destination for big wave surfers because of the very high waves that form here. Nazaré's underwater canyon amplifies and concentrates the incoming swells. This combined with the local water current dramatically increases wave heights. Unsurprisingly, numerous surfing records have been set here.
Location 2: Figueiró dos Vinhos village
Figueiró dos Vinhos is a small town and a county in Central Portugal. In the late 19th and early 20th centuries, it became known as the place to be for various artists. Two famous ones, José Malhoa (1855-1933) and Henrique Pinto (1853-1912), spent the end of their lives here.
Location 3: Fragas de São Simão canyon
The wooden walkways of Fragas de São Simão connect the river beach with the lookout points above São Simão. These boardwalks cross the canyon of the river Ribeira de Alge.
Location 4: Porto
The second largest city of this country is Porto, which is the economic and cultural center of northern Portugal. Its historical center is now a UNESCO World Heritage Site and a famous travel destination.
Photo equipment used for shooting the photos of Portugal above
After some thoughtful planning, I decided to put the following cameras and lenses into my photo bag for travel shooting in Portugal:
Sony a7ii full frame and Sony a6100 APS-C cameras.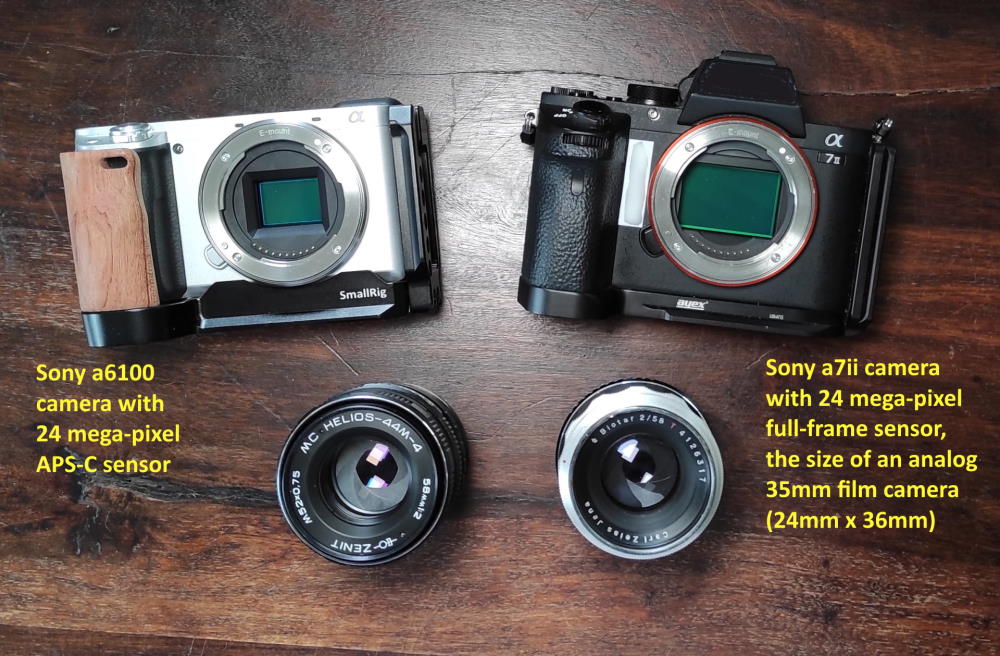 Reasoning: Because of the crop-factor of 1.5 of Sony APS-C sensors, each prime lens is equal to two lenses with different focus lengths. E.g., the full frame Carl Zeiss Jena Biotar 58mm lens has a view angle of an 87mm equivalent full frame lens when used on the Sony APS-C camera. In addition, you do not need to change your lenses so often. Put a wide-angle lens on your full frame camera and a tele lens on your APS-C camera and you are prepared for most photo opportunities. Many professional wedding photographers shoot with a 35mm and a 85mm prime lens on two camera bodies all day long without any lens changes.
Reasoning: Include some ND filters, especially a ND4 and ND8, because with ND filters, you can shoot fast prime lenses with open aperture for maximum object separation at sunlight. Without those filters, many bokeh shots shown below would not have been possible due to over exposure.
.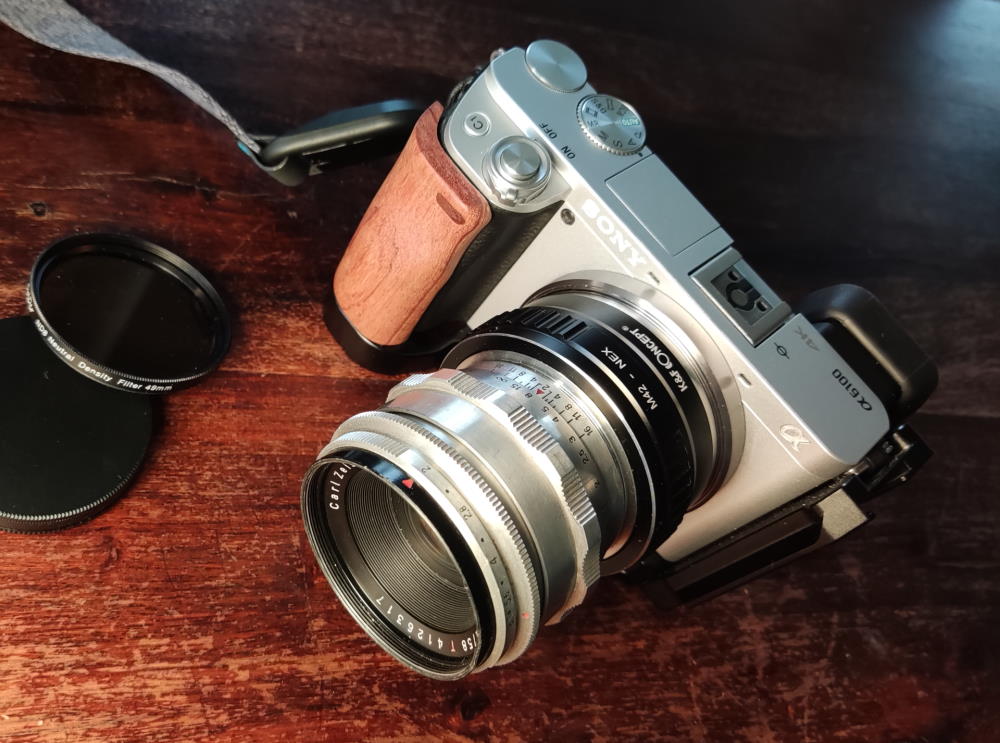 Reasoning: This legendary fast prime lens is known for its sharpness and beautiful bokeh. Under certain circumstances, it produces a swirly bokeh. You can make the same nice shots with the Russian copy Helios 44M-4 classic lens for only approx. EUR 60.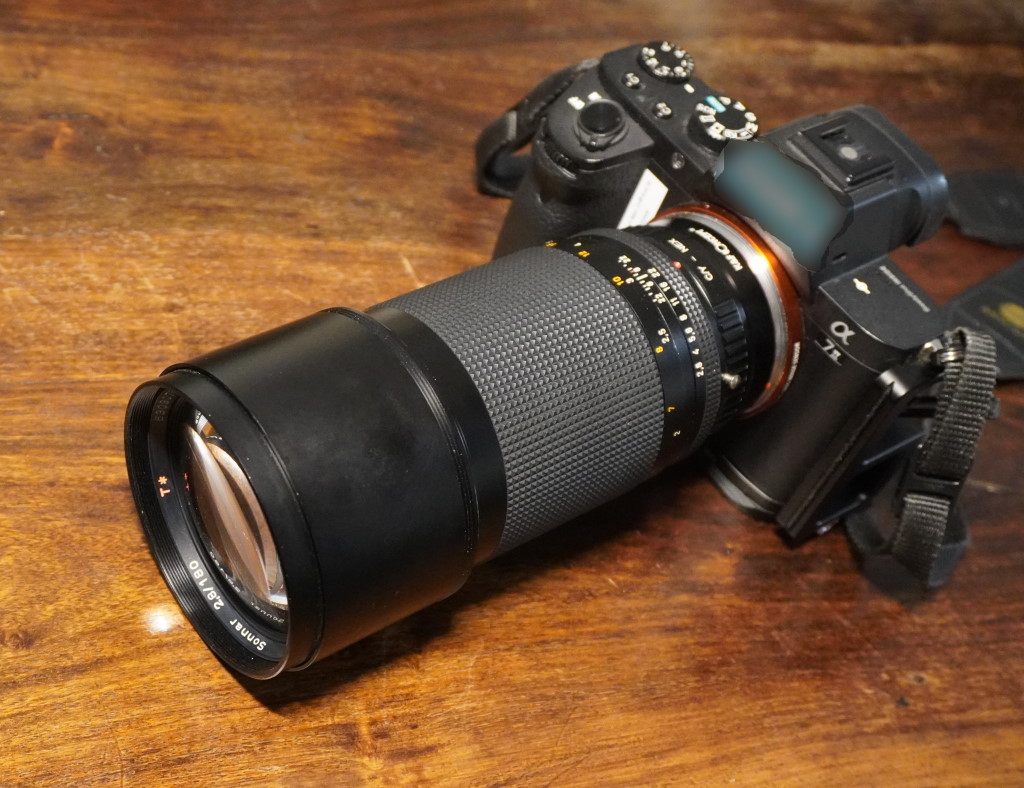 Reasoning: This lens is known for its sharpness and overall image quality. When adapted to the Sony a6100 APS-C camera and used with a Carl Zeiss Mutar II 2x tele converter, the angle of view compares to a 540mm lens (180mm x APS-C crop-factor of 1.5 x 2 = 540mm), just in case some big waves and surfers show up in Nazaré.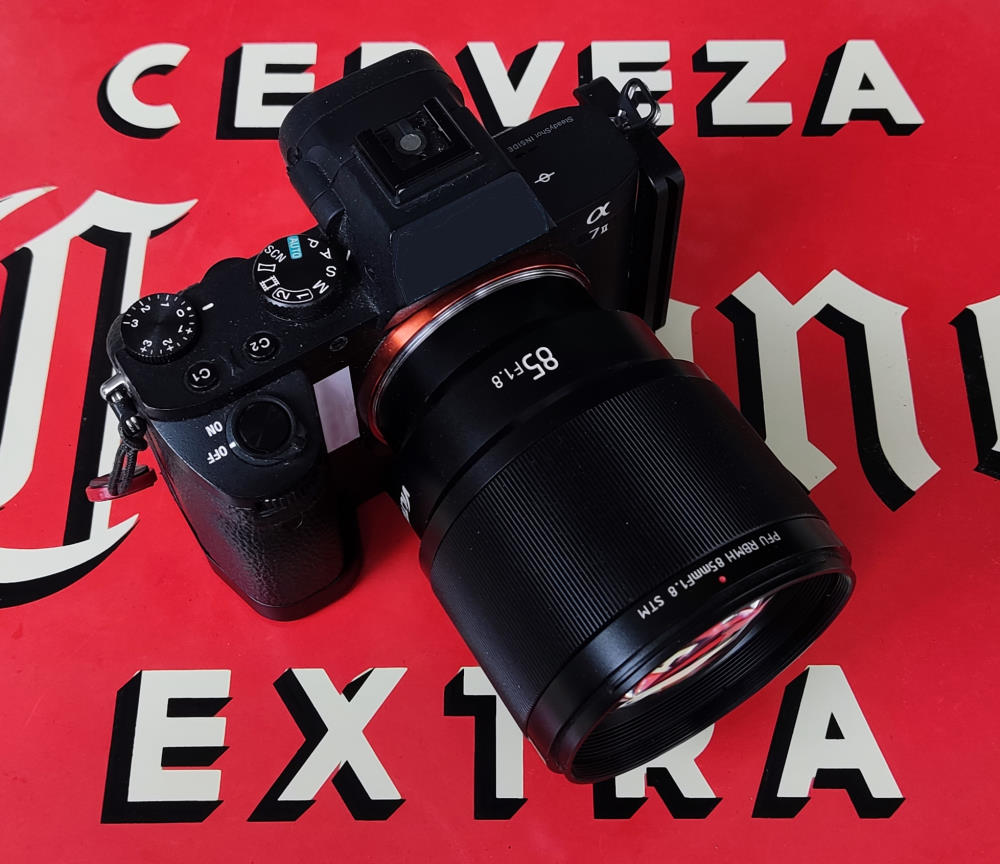 The at f2.8 open aperture across-the-frame sharp auto-focus Tamron 24mm f2.8 modern prime lens for a low price of approx. EUR 180 with 1:2 Macro capability and smooth bokeh.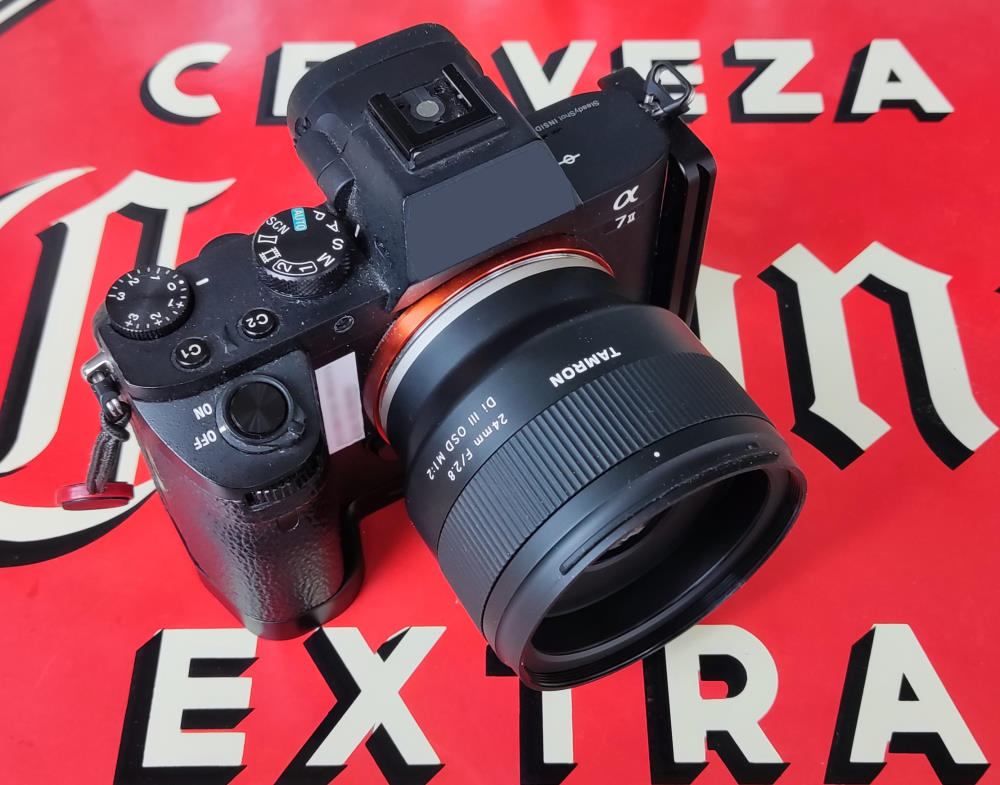 In my opinion, there are no good classic lenses to recommend for wide angle 24mm focus length. The only affordable and good 24mm classic lens that comes to my mind is the Canon FD 24mm f2.8, which is almost as costly as the modern Tamron 24mm lens. But this Canon 24mm classic lens has a complex Mustache style distortion that is very difficult to remove.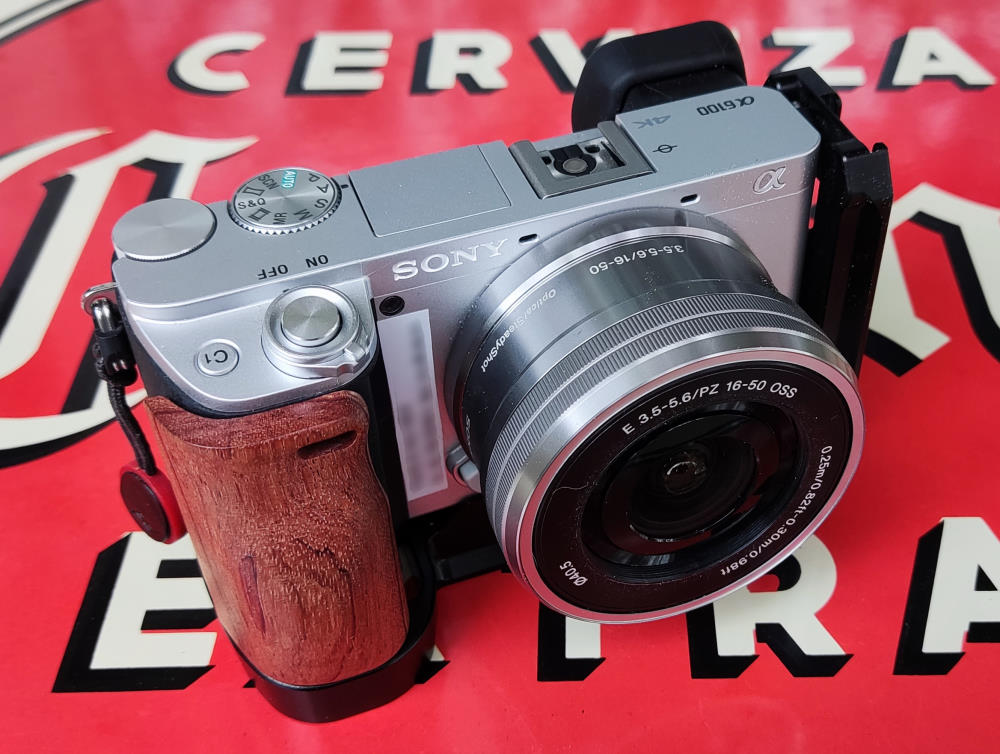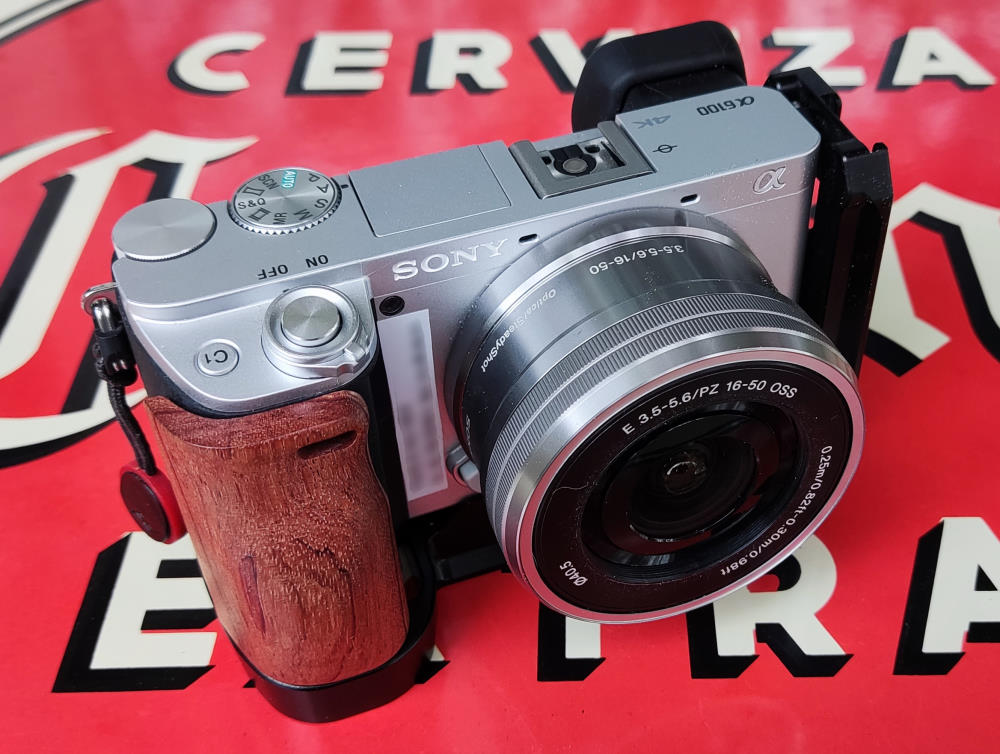 Reasoning: To have an "always carrying with me" travel lens and camera combo.
Xiaomi POCO F3 smartphone with a 12 megapixel sensor camera.
Learnings
My personal learnings, after the realities of travel challenged my careful photo equipment selections:
Taking the Carl Zeiss Jena Biotar 58mm f2 classic lens with me and using it with a ND filter was a good idea, as the many open aperture shots with beautiful bokeh show.
The Viltrox 85mm f1.8 lens was capable of beautiful bokeh shots with a ND filter at sunlight, but could have been replaced with the Biotar 58mm used equivalent to a 87mm full frame lens on the Sony a6100 APS-C camera.
The inexpensive Tamron 24mm f2.8 lens excelled in street photography. Just check out the bokeh and corner sharpness in full resolution. Its nice macro capabilities show through with the flower in image no. 09500.
During a longer walk around Porto, the Sony a6100 APS-C camera with the tiny Sony FE 16-50mm kit lens (equal to a 24-75mm full frame lens) delivered some nice images. It's a small, light and inexpensive camera/lens combination to always have on hand for travel shots.
The use of the Xiaomi POCO F3 camera made the limitations of smartphone photography more than obvious. Some hundred grams of pure physical glass optics on large sensors cannot be beaten by smartphone cameras and clever imaging software, yet.
Unfortunately, no big waves and surfers showed up in Nazaré when I was there, but the quality of the rare images taken with the Carl Zeiss Olympia Sonnar 180mm f2.8 classic lens are quite promising. This classic Zeiss tele lens would be a good choice for shooting big wave surfers. But this Zeiss lens was also heavy and large in the photo bag.
Optimized travel photo lens set
After this travel shooting experience in Portugal, I would change the travel lens set that I first selected. Reasoning: The Helios 44M-4 classic lens is much cheaper than the Biotar classic lens and creates the same stunning bokeh images. The Viltrox 85mm f1.8 lens was obsolete when using the Helios 44M-4 58mm classic lens on the a6100 APS-C camera. The Carl Zeiss "Baby Olympia Sonnar" T* 135mm f2.8 classic lens fits better into a versatile set of focus lengths and is much smaller and lighter than the Carl Zeiss Olympia Sonnar T* 180mm f2.8 lens sibling. Therefore, my optimized travel lens set now looks as follows: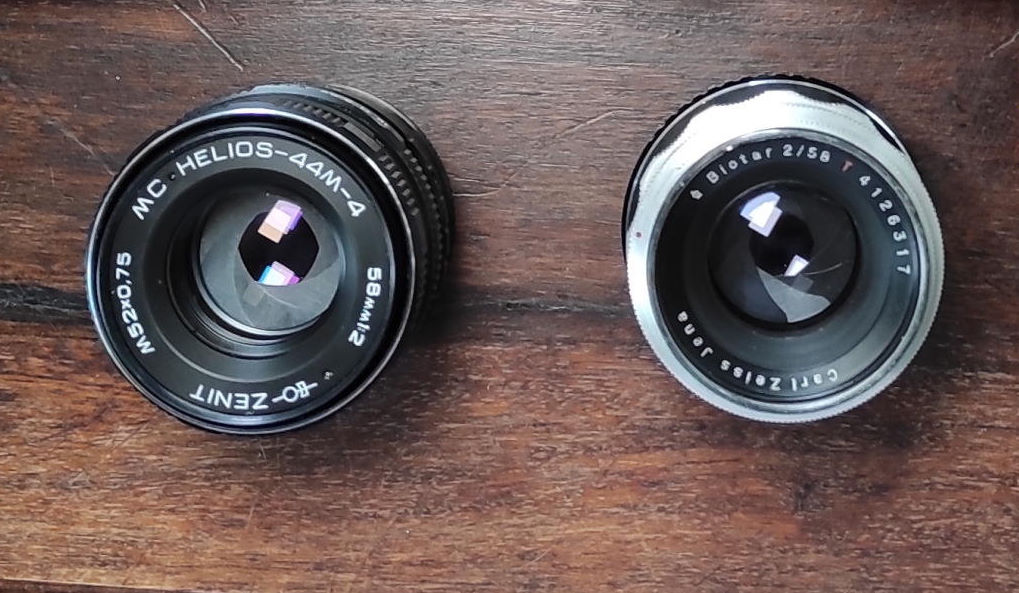 I would not recommend an older version than the Helios 44M-4 lens without "MC" (Multi Coating), which might have some mechanical problems, including being a "wobbly lens" on the adapter. Alternatively: Canon EF 50mm f1.8 STM modern auto-focus lens adapted to e-mount, equal to 75mm on APS-C camera, approx. EUR 120. Plus: 49mm ND8 filters for both lenses.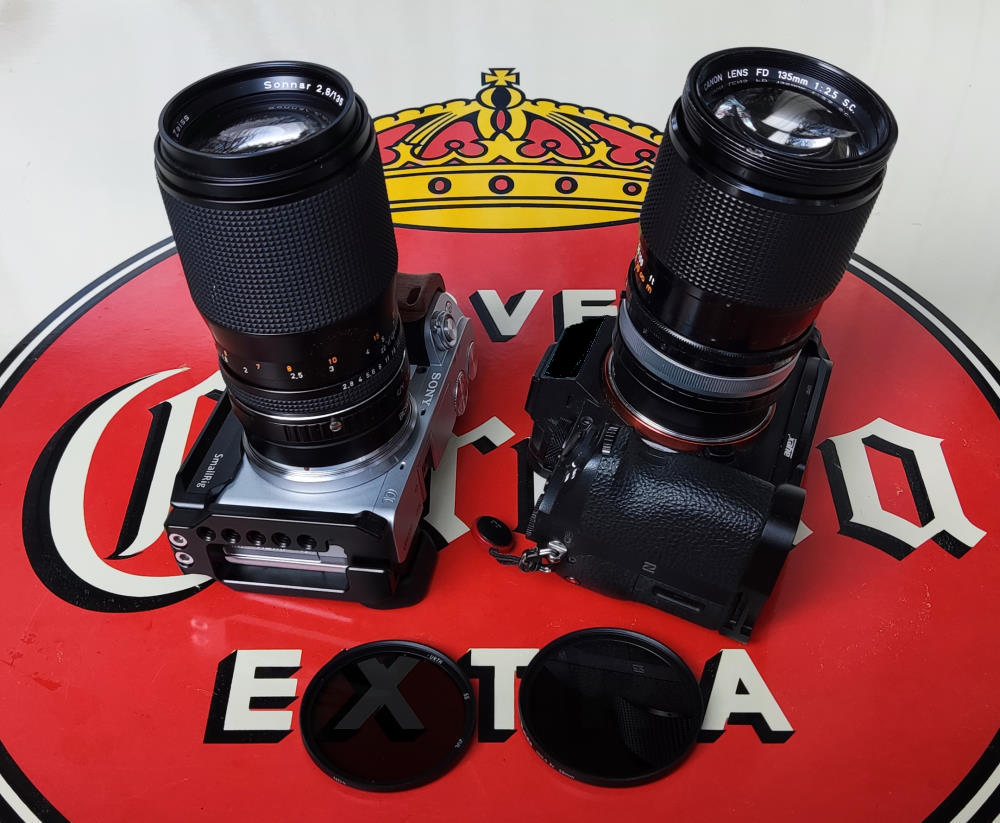 Very sharp across the frame already at open aperture f2.8 with typical Sonnar-style beautiful creamy bokeh. Alternatively: Canon S.C. (Spectra Coating) FD 135mm f2.5 classic lens adapted to e-mount, approx. EUR 100. This classic Canon lens is a technical predecessor of the Lord of the Red Rings 135mm f2 UMC L-lens. Plus: 55mm ND4 filter for the Zeiss lens, 58mm ND4 filter for the Canon lens.
If you choose the inexpensive lens options mentioned above (Tamron 24mm, Helios 44M-4 58mm, Canon 135mm), by spending approx. EUR 340, you could get three good prime lenses for travel photography to cover the 24mm, 36mm, 58mm, 87mm, 135mm, and 200mm focal lengths in a small and light photo bag (using both a Sony a7* series full frame camera and a Sony a6*00 series APS-C camera).
Forget about good travel photos without the right photo subjects, good composition and lighting
Despite these technical issues, we should not forget that the creative eye for attractive photo subjects, good image composition and proper lighting are more important for good travel photos than all the factors related to photographic equipment. A talented professional photographer with a mid-range smartphone is likely to produce better images than an amateur using photo equipment worth thousands of Euros.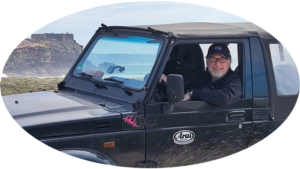 Professional Big Wave Surfer Sebastian Steudtner getting towed into a massive wave on the north beach of Nazaré, which was one of the biggest waves ever
.
Learn more about the legendary Carl Zeiss Jena Biotar 58mm f2 classic lens here
Swirly Bokeh? The legendary Zeiss Biotar 58mm f2 vs. the Russian copy Helios 44M-4 58mm f2 lens
Learn more about the Carl Zeiss Olympia Sonnar 180mm f2.8 classic lens here
Zeiss Olympia Sonnar 180mm f2.8 lens adapted to a Sony a7ii full frame camera
Learn more about the hyped Viltrox 85mm f1.8 modern lens here
Octoberfest night images with Viltrox 85mm f1.8 lens on Sony a6000 APS-C camera