Can a classic superzoom lens from 1987 for EUR 50 beat a modern superzoom lens for EUR 1,000?
The following lenses were reviewed for center and corner sharpness at 28mm, 50mm, 70mm, 135mm and 200mm focal length and aperture f8 on a Sony a7 ii full-frame camera:
Click on the lens photos to enlarge to Full HD resolution:
Tokina lenses declare their production year in the first two digits of the serial number "8709753". Therefore, this lens was made in 1987. See what else was happening in 1987 (the year of the "Tear down this wall" speech in West Berlin by United States President Ronald Reagan): https://en.wikipedia.org/wiki/1987
The superzoom lens review scenario
All shots at the lens shootout location were shot with aperture f8 and ISO 400. There was almost the same lighting condition for all lenses. Shutter speed was calculated by the camera for proper exposure by aperture priority automatic mode "A".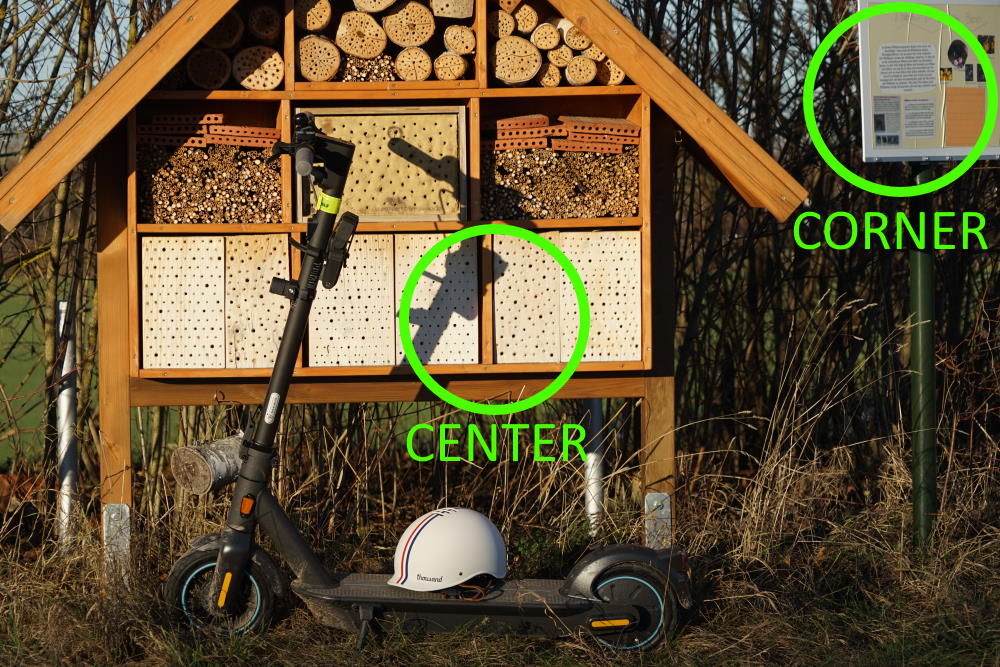 Read more about wild bee hotels here in this very informative paper from Michigan State University: https://pollinators.msu.edu
The Ninebot MAX G30 e-Scooter
I was driving "Greta-friendly" to a wild bee hotel with the Ninebot MAX G30D e-Scooter (German model) to shoot the superzoom lens comparison photos. Here are the PROS and CONS of this e-Scooter: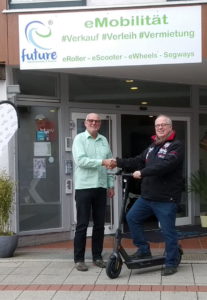 PROS of the Ninebot MAX G30 e-Scooter
High build quality and range up to approx. 65km (75kg passenger travelling at 15km/s and 20 degrees Celsius)
Ten-inch tubeless pneumatic tires for a smoother ride
Regenerative brake system in the rear hub motor, recharging when you brake
Stable drive when accelerating and breaking with the rear hub motor
Built-in power unit, only a simple cable is needed to completely charge the e-Scooter in approx. 6 hrs
Water resistance rating of IPX5 for the whole body (IPX7 water resistance for its core components)
Foldable, which is mandatory for free transportation on Munich's S-Bahn and other trains
Cruise control – when you maintain the same speed for five seconds, the scooter keeps that speed (nice for driving long distances), however according to some forum news this function will be disabled in a current firmware version
CONS of the Ninebot MAX G30 e-Scooter
Heavy: 19.5kg weight, approx. the same weight as a full, 20-glass-bottle crate of Bavarian beer
Non-adjustable steering rod, which is too high for shorter people
Now back to the lens review.
The classic and modern superzoom lens center and corner sharpness at 28mm, 50mm, 70mm, 135mm and 200mm focal lengths
Superzoom lenses like the Sony FE 24-240mm f3.5-f6.3 on a Sony A7 series full-frame camera are wonderful travel lenses. From 24mm wide-angle to 240mm telephoto you cover a wide band of focus lengths with just a single lens, no need to change your lens and much less weight than carrying many prime lenses.
But how does the modern Sony superzoom lens perform against a 30-plus-year-old Tokina classic superzoom lens?
Look at the photos to compare the center and corner sharpness of both lenses at 28mm, 50mm, 70mm, 135mm and 200mm focal length on a Sony A7ii full-frame camera:
Some extra photos from the classic Tokina and modern Sony FE superzooms
All photos with the Tokina superzoom lens are made with the 1:4 Macro function:
Rundown
Does the classic superzoom lens from 1987 for EUR 50 beat the modern superzoom lens for EUR 1,000 in lens sharpness? The answer is no. In addition, the modern superzoom has a very good auto-focus, while the classic zoom-lens is fully manual in focus and aperture setting.
But the classic superzoom is much closer to the modern superzoom in lens sharpness than the price difference might imply. Especially at higher focal lengths of 135mm and 200mm, the classic superzoom delivers a higher lens sharpness in the center and comes very close for lens sharpness in the corner.
So for EUR 50, the Tokina SZ-X 28-200mm superzoom is a very good deal if you buy a lens in good condition, without lens fungus, haze, balsam separation and scratches on the lenses.
On an APS-C camera like the Sony a6000 series, the classic Tokina superzoom lens might perform even better in the edges because only the sharp sweet spot of the lens will be used. I will verify this assumption sometime in the future with a pixel-peeping review.
You will need an additional adapter for Canon-FD, Minolda MD or Nikon F-Mount to Sony e-mount. It should cost approx. EUR 25 to mount the Tokina classic superzoom at a Sony a7 series full-frame camera or a Sony series 6000 APS-C camera.