Comparing the sharpness of the Raynox M42 135mm f2.8 with the vintage Canon FD 135mm f2.5 lens
The Raynox 135mm f2.8 vintage lens was a discussion topic in the Classic Lenses Podcast episode "#53 Wet on Wet Bokeh!". In the Facebook Group Photography With Classic Lenses, Johnny Sisson from the Central Camera store in Chicago called this lens "The Butter Knife":

Et Voilà! Let's see if the sharpness test results will wipe Johnny's smile off his face! (Sorry, Johnny.)
I donated two coffees to Johnny, to kindly nudge him into re-thinking his verdict about the Raynox lens. You can send him a cup of coffee too, here: https://ko-fi.com/M4M1KKZE
The very unknown and inexpensive Raynox "sleeper lens" is an interesting lens because it delivers a unique style of pleasing bokeh, which corresponds to the wet-on-wet technique for watercolor paintings (see here). Despite its unique bokeh, there are many doubts about its sharpness.
Please pixel peep the following test shots and judge for yourself: Is the Raynox 135mm f2.8 lens soft like a butter knife or sharp like a miracle blade? You will find all test photos in full 24 megapixel resolution for further analysis or download at the end of this article.
Test location: Bavarian forest weather station
To make the performance competition more entertaining, a traditional Bavarian weather station in the woods south of Munich, Germany, was used to compare the sharpness of the Raynox 135mm f2.8 vintage lens with two other lenses.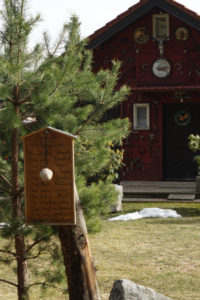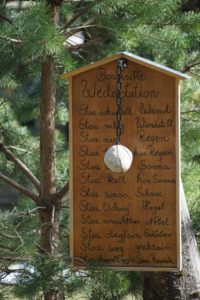 A weather station is a facility with instruments and equipment for measuring atmospheric conditions to provide information for weather forecasts and to study the weather and climate. The traditional Bavarian weather station works by analyzing the stone hanging in front of the device, e.g. if the stone is wet, it must be raining. Here are all possible measurement results:
Stone rocks – windy
Stone calm – windless
Stone wet – rain
Stone dry – no rain
Stone warm – sunshine
Stone cold – no sunshine
Stone white – snow
Stone holey – hail
Stone invisible – fog
Stone fallen down – earthquake
Stone gone – stolen
Stone seen twice – intoxication
Test procedure to compare the sharpness of the lenses
The following lenses were tested for center and corner sharpness: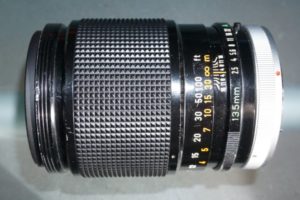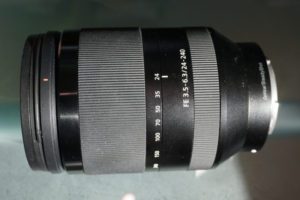 The Canon FD 135mm f2.5 lens was selected to compete with the Raynox lens because it is widely known as a decent sharp 135mm vintage lens for an acceptable price.
The modern Sony FE 24-240mm zoom e-mount lens was used at 135mm and f8 to have some kind of reference quality compared to the vintage lenses. The slow Sony FE 24-240mm was only compared at f8 because its open aperture at 135mm starts at approx. f5.6. See Ken Rockwells verdict about this modern zoom Sony FE 24-240mm lens here. Those photos are shot with a different color profile (yellowish), for easy distinction.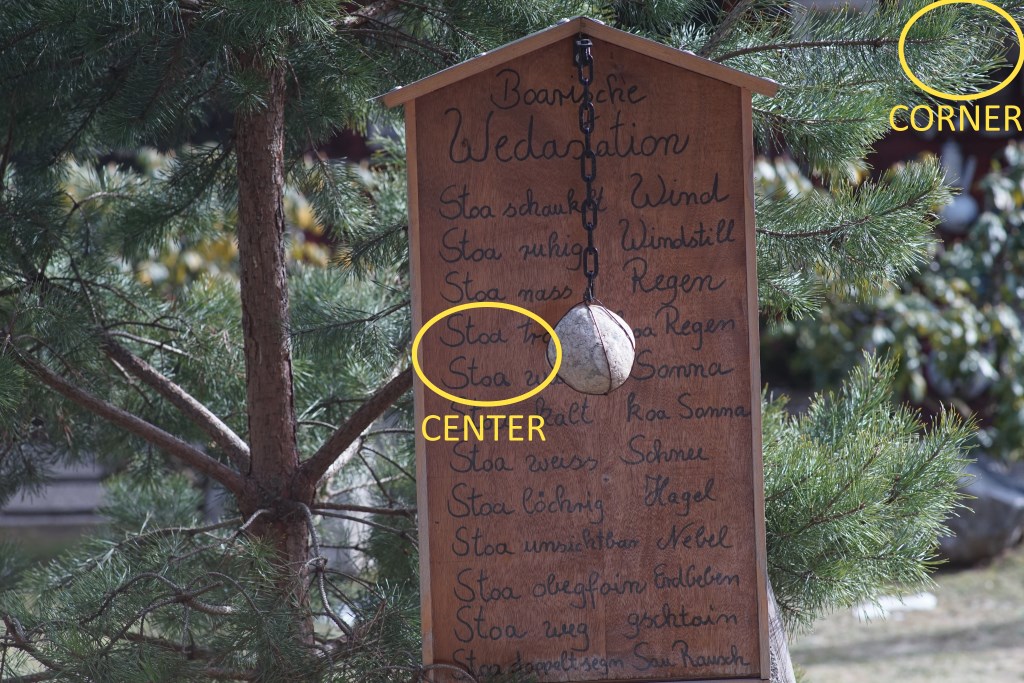 Camera used for testing the lenses: Sony alpha 7ii fullframe mirrorless camera at ISO 800. Several test photos were shot for each lens and aperture value to check for potential variation of test results. Focus peeking and max. focus magnification was used to carefully set the correct focus for the lens.
Sharpness test results
The test results show that the 40-plus-year-old Canon FD 135mm f2.5 beats the modern Sony FE 24-240mm lens in corner sharpness, but is not a serious contender to the Raynox 135mm f2.8 regarding sharpness in center and corner. The next contender to try to beat the Raynox 135mm f2.8 in sharpness will be the sharp Nikkor Ai-S 135mm f2.8 lens in an upcoming test.
The depth of field is very small with the Raynox lens at open aperture f2.8. But if the focus is correctly set, sharpness is great as the following photos show.
Test photos in center and corner at f2.8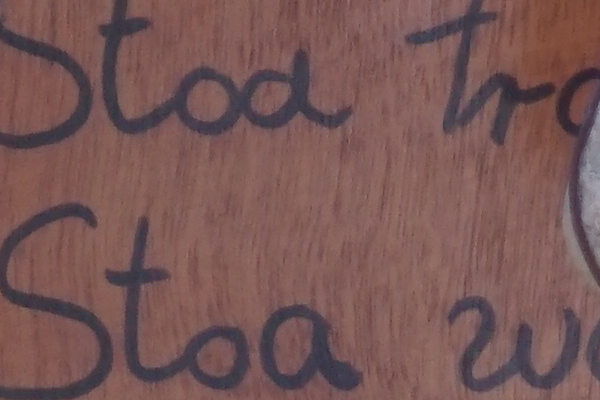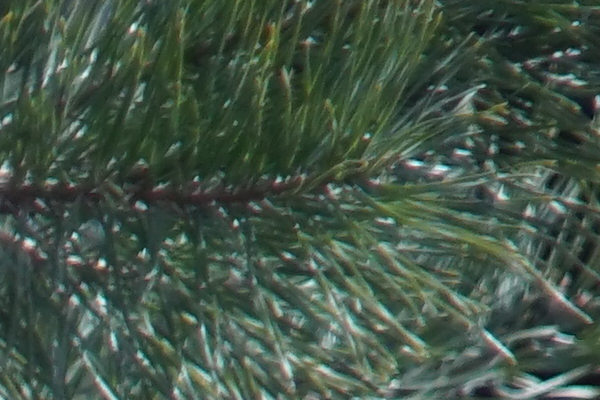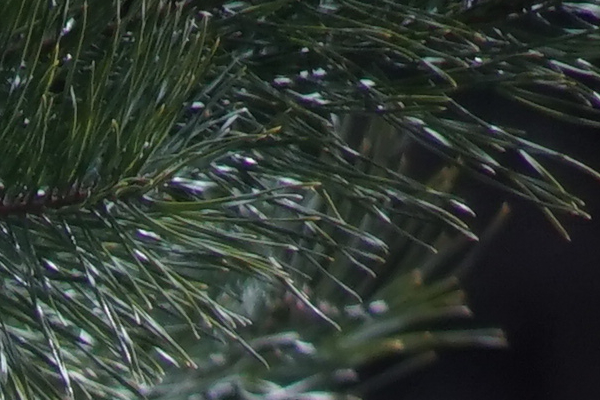 Test photos in center and corner at f8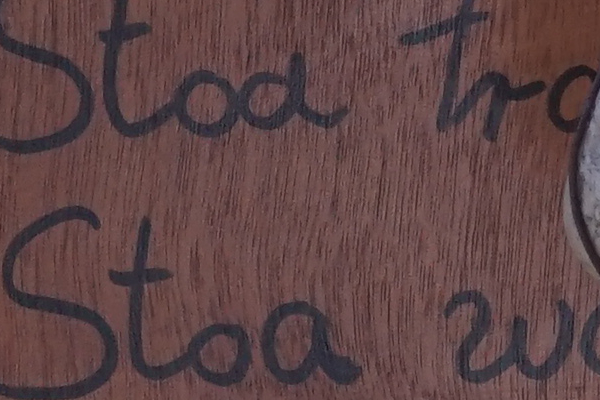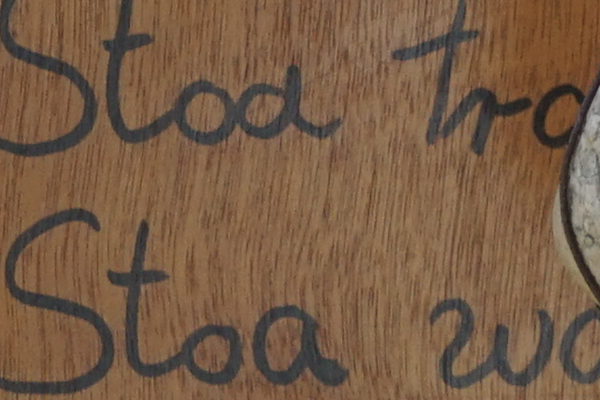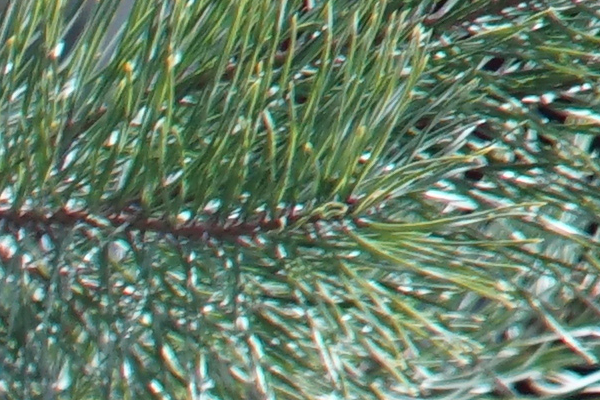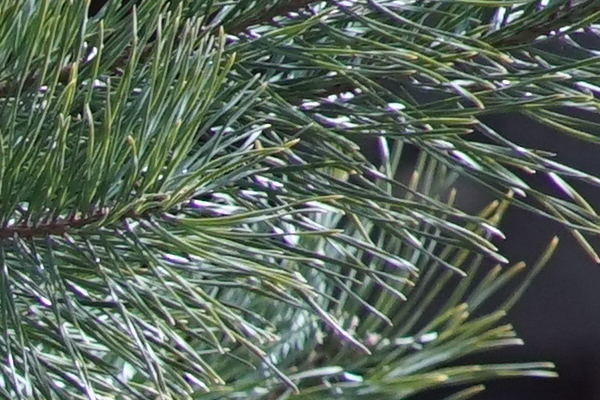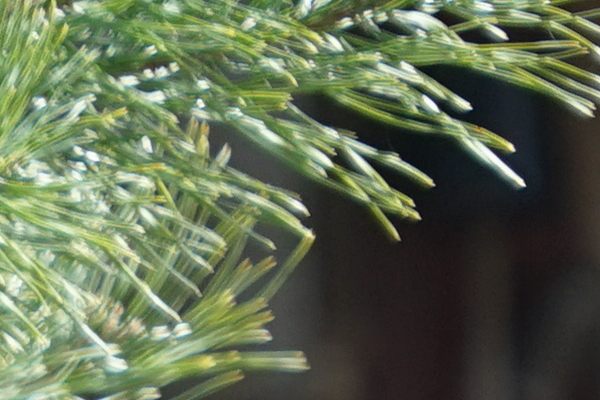 As you can see in above test photos, the sharpness winner at f2.8 and f8 in the center and the corner is clearly the Raynox 135mm f2.8.
DISCLAIMER: The difference in sharpness between the Raynox M42 135mm f2.8 and the Canon FD 135mm f2.5 vintage prime lenses is much larger than expected. I hardly believe it myself. I will double check the test results in a second comparison test with a different test setup. If you have any ideas why my test results could be wrong (other than lens variation), please leave a hint in the comments.
Translation of the Bavarian Weather Station measurement values
Boarische Wedastation
Bavarian Weather Station
Stoa schaukelt – Wind
Stone rocks – windy
Stoa ruhig – Windstill
Stone calm – windless
Stoa nass – Regen
Stone wet – rain
Stoa trocken – koa Regen
Stone dry – no rain
Stoa warm – Sonna
Stone warm – sunshine
Stoa kalt – koa Sonna
Stone cold – no sunshine
Stoa weiss – Schnee
Stone white – snow
Stoa löchrig – Hagel
Stone holey – hail
Stoa unsichtbar – Nebel
Stone invisible – fog
Stoa obegfoin – Erdbeben
Stone fallen down – earthquake
Stoa weg – gschtoin
Stone gone – stolen
Stoa doppelt segn – Sau Rausch
Stone seen twice – alcohol intoxication
Test photos in full resolution